1
of
25
Celebrity weddings have always held a special place in the public's imagination. Join us as we explore 25 remarkable moments of love and glamour, have left an indelible mark on the annals of celebrity matrimony.
Tom Cruise and Katie Holmes
The famous Hollywood couple got married in 2006. Their wedding ceremony took place in Italy and followed the rules of the Church of Scientology. It was attended by celebrity guests, media, and even tourists. However, this did not save their marriage, as they divorced in 2012.
Keira Knightley and James Righton
The actress and the musician got married in 2013 in the town of Mazan in the south of France. Their wedding was modest and intimate. For this significant occasion, Keira chose a simple dress from Chanel.
Will and Jada Pinkett Smith
Will and Jada got married in 1997 in the bride's hometown. The wedding was simple and elegant. Unfortunately, according to the actress, they had already separated in 2016.
Sofia Richie and Elliot Grainge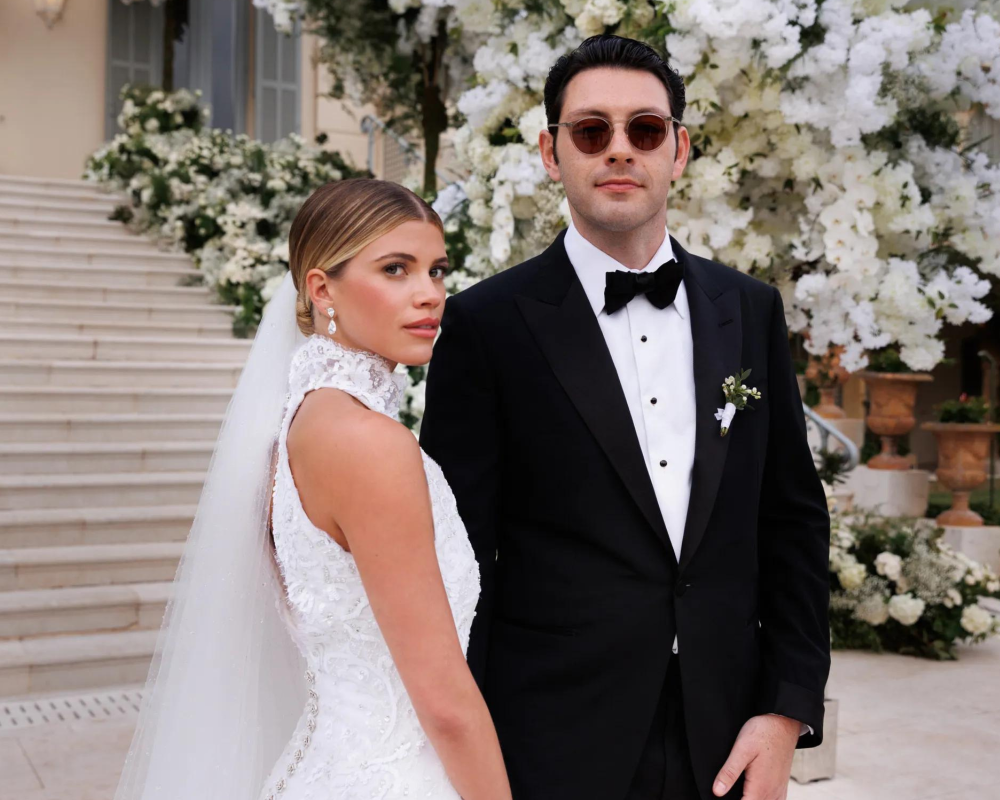 Lionel Richie's youngest daughter got married in April 2023. The wedding took place in France and lasted for three days. There were many celebrities at the celebration, and the bride managed to wear three dresses from the Chanel fashion house.
Dylan Sprouse and Barbara Palvin
The couple got married in July 2023 in Hungary, Barbara's homeland. They also had their wedding ceremony in the same church where her parents were married. In the fall, the newlyweds plan to celebrate their wedding once again, but this time on a grand scale in California.
Gisele Bundchen and Tom Brady
The supermodel and the footballer got married in February 2009. Their wedding was quiet and modest, and the bride appeared in a Dolce & Gabbana dress. Unfortunately, the couple separated in 2022.
Kate Moss and Jamie Hince
The legendary 90s supermodel got married in 2011. The couple had a lavish wedding with around 140 guests in attendance. Kate's wedding dress was created by her friend and renowned designer John Galliano. However, in 2016, after five years of marriage, the couple divorced.
Naomi Watts and Billy Crudup
The actors got married in June 2023. Before their wedding, the couple had been dating for five years. They chose not to have an extravagant ceremony and simply tied the knot in a courthouse. Afterward, they quietly celebrated with close friends.
Kate Upton and Justin Verlander
Kate and Justin got married in 2017. Their lavish wedding ceremony took place in Tuscany. The bride was radiant in a dress by Valentino.
Kate Middleton and Prince William
Prince William and Kate Middleton got married on April 29, 2011, at Westminster Abbey. It was truly the "wedding of the century," as an estimated 2.4 billion people worldwide tuned in to watch the ceremony.
Rita Ora and Taika Waititi
A British singer and a film director got married in August 2022. They exchanged vows secretly in Los Angeles, inviting only their closest friends and family.
Kourtney Kardashian and Travis Barker
Kourtney and Travis's wedding can be described in two words – gothic luxury. It took place in May 2022 in Italy, and the bride wore a short lace dress by Dolce & Gabbana.
Priyanka Chopra and Nick Jonas
Their wedding took place in 2018 in India. For the Christian ceremony, the actress appeared in a gown by Ralph Lauren with a 75-foot veil. For the Hindu part of the celebration, Priyanka chose a traditional red outfit.
Jessica Simpson and Eric Johnson
The couple got married in 2014. Their wedding took place at the luxurious San Ysidro Ranch in Santa Barbara, and the bride wore a dress designed by Carolina Herrera.
Sia and Dan Bernad
The singer got married in May 2023. It was a romantic and private ceremony in Portofino. Kourtney Kardashian also got married there, just a year earlier.
Poppy Delevingne and James Cook
The couple got married in 2014 in London. The wedding ceremony took place at the Church of St. Paul. The bride wore a wedding dress from Chanel Couture, and her younger sister, Cara Delevingne, was the bridesmaid.
Victoria and David Beckham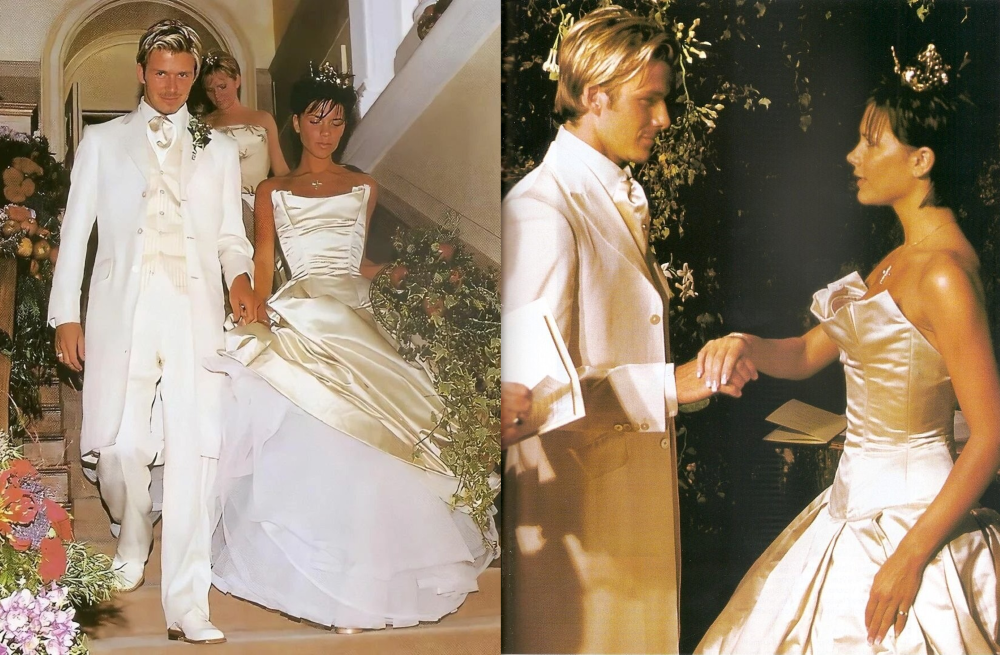 Victoria and David Beckham had a lavish wedding in 1999 at Luttrellstown Castle in Ireland. The high-profile event featured a golden throne, matching outfits, and an estimated cost of around £500,000, making it one of the most iconic celebrity weddings of the late 1990s.
Brooklyn Beckham and Nicola Peltz
Victoria and David's son got married in April 2022. His bride is Nicola Peltz, an actress and the daughter of a billionaire. The ceremony took place at the Peltz family estate and was attended by some of the most prominent guests.
Miles Teller and Keleigh Sperry
The actor and the fashion model legalized their relationship in 2019. They held the ceremony in Hawaii. Prior to this, the couple had been dating for six years.
Britney Spears and Sam Asghari
Britney and Sam got married in 2022 in California. The celebration was quiet, modest, and almost family-oriented. Britney wore a wedding dress by Versace. However, their happiness was short-lived, and a year later, the couple began the process of divorce.
Daniel Fryer and Taylor Hill
The Victoria's Secret model got married in July 2023 in her hometown in Colorado. The ceremony took place at Devil's Thumb Ranch, and the bride walked down the aisle in a dress from the Italian brand Etro.
Hailey Baldwin and Justin Bieber
The couple officially tied the knot in 2018, but it was only a year later that they had a lavish wedding. The ceremony was attended by their close friends and family, and the bride wore a dress by Off-White.
Prince Harry and Meghan Markle
Prince Harry and Meghan Markle had a fairytale wedding in May 2018 at St. George's Chapel, Windsor Castle, with millions of viewers worldwide. The ceremony blended tradition and modernity, and Meghan's Givenchy wedding gown was a highlight of the elegant affair.
Jay Z And Beyonce
Jay-Z and Beyoncé had a private and highly secretive wedding in April 2008. They have managed to keep many details of their wedding under wraps, but it is known to have taken place in a small ceremony with close friends and family.
Jennifer Lopez and Ben Affleck
Jennifer and Ben were engaged back in 2002, but they broke up in 2004. Nearly 20 years later, they finally got married. They initially had a quick wedding ceremony in Las Vegas and later had a lavish celebration at the actor's estate in Georgia.